Walterboro Wildlife Sanctuary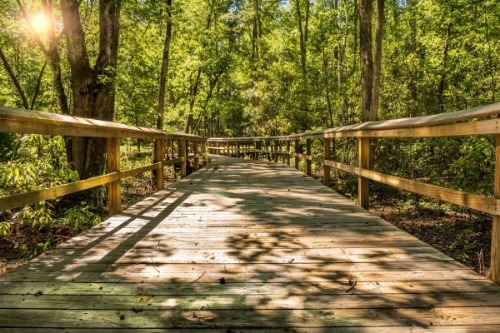 Walterboro's nature-based attraction, the Wildlife Sanctuary, offers visitors the ultimate Lowcountry experience, combining history, culture, recreation and education in a singularly southern lowlands setting.
Just three minutes from I-95, the environmental jewel is ideally positioned to serve as the gateway to other nature-based centers in the state and as a catalyst for the greatly expanding ecotourism market. Located within the ACE Basin, the East Coast's largest estuarine preserve, the 600 plus acre Sanctuary features what may be the only "braided creek" swamp accessible to the public.
A completed network of boardwalks, hiking, biking and canoe trails provide a perfect vantage point to observe the diversity of  wildlife inhabiting the black water bottomland. The most historically significant of these paths follows the Colonial-era Charleston-to-Savannah Stagecoach Road still bearing the cypress remnants of long-fallen bridges.
The final phase of the project— Wildlife Center—will include a multi-purpose classroom and cutting-edge exhibition area and ampitheatre.